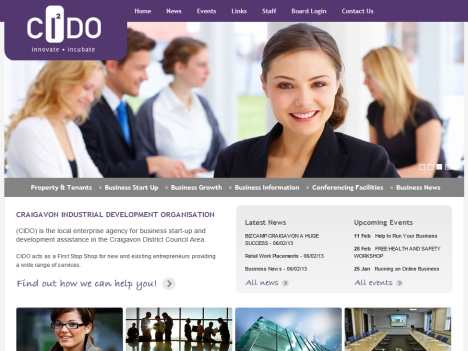 The sun was out to mark the start of the two day Northern Ireland summer and everyone was in good spirits as they attended the second part of the CIDO "Running an Online Business" course on Friday 24th May.
The first piece of good news was that almost everyone who had attended the previous week's session had returned for the final week. The attrition rate over a two week session is probably the best way of measuring the effectiveness of a trainer and I'm pleased to report that this particular trainer did quite well!!!
Last week's session was all about how to set up an online store covering the bit boring but necessary topics of Payment Gateways, Structuring a Catalogue and understanding the terribly complicated jargon that experts use to baffle small businesses with the objective of charging them more money. We did also ponder the question, "Why?" which pops up on some psychology exams and is equally appropriate in the world of online marketing – i.e. why are we constructing an online store? We took time to remind ourselves of the obvious, yet oft overlooked answer to this question, which is to make money (not to create a beautiful website without phone number, email address or other means of transacting with the proprietor).
This week's session moved on to the more interesting topic of promotion. The conventional PowerPoint presentation was soon abandoned in favour of the more practical but risky online demonstration. We agreed that failure to promote your online store equates to building a shop on the side of the mournes (mountain range in the middle of nowhere for anyone who hasn't heard of the mournes).
Firstly we took time to explain the basics of Google and why it is important to rank on the first page of this and other search engines for chosen keywords. We then used Google's Keyword Tool to show how to choose keywords using the mantra that if people don't search for it, why appear on the first page of Google for it? We then took the step of building a blog entry the Google way, showing how to deploy keywords into the various important places of the web page.
Then we discussed linking and spent some time on probably the most important business directory of them all, which is Google Places. A step by step guide was outlined and this trainer sincerely hopes that all attendees have now done the necessary and are eagerly awaiting their postcard from California.
Social Media was next under the microscope with a practical review of managing a Facebook Page and recommendations on how to keep your SM up to date. This was followed by a review of email marketing and a practical demonstration of MailChimp, my top tip for effective email marketing. I should add at this point that I'm not receiving a commission payment from MailChimp, or any other recommended services, although if they are reading I am of courses open to offers.
And finally we discussed measurement, using Google Analytics as our measurement tool. Without measurement how do we know if our online marketing efforts are working? Analytics will tell us a wide range of useful things including number of visitors, where they are coming from and what they are looking at. I have built a Google Analytics dashboard, which extracts the most pertinent information from your website performance, which is called Website Manager and can be researched on my site at www.table59.co.uk.
I would like to extend my thanks to all who attended and remind them that I am happy to provide advice….
https://www.table59.co.uk/wp-content/uploads/2013/05/CIDO.jpg
351
468
table59
https://www.table59.co.uk/wp-content/uploads/2016/03/table59_transparent.275-by78.png
table59
2013-05-24 15:37:04
2013-05-27 09:43:40
table59 helps Small Businesses to Promote their Online Stores