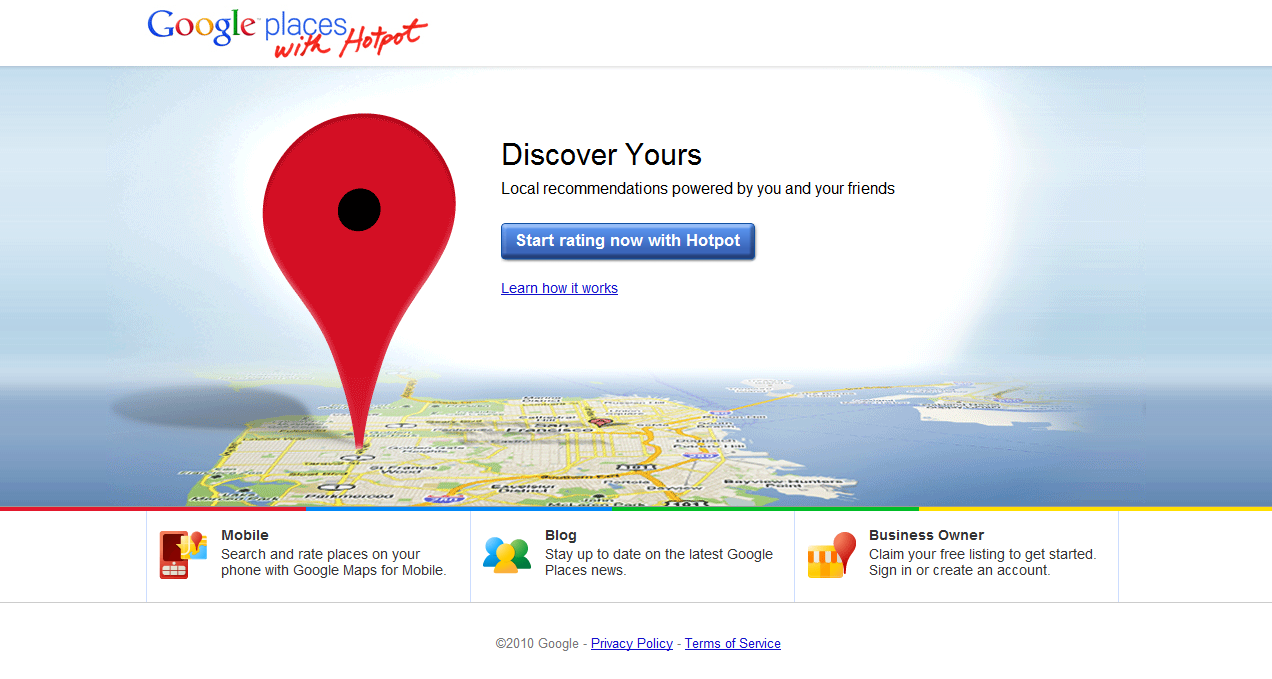 Research tells us that the average person doesn't look beyond the first 4 results from a Google search. Who knows why; maybe it's because we are simply too impatient to find what we need. Whatever the reason, we need to get to the top of the Google search results page and the easiest way to do this is to register with Google Places.
Google Places listings are easy to spot – it's a list displayed at the top of the search results page that's indented from the other results and corresponds with dots on the displayed map, which marks the physical location of the listed businesses. These businesses have taken the time to register with Google Places, which is free and should only take a few minutes. Here are the steps to follow.
Step One
Go to the Google Places registration page and login with your Google account (set one up for free if you don't already have one).
Step Two
Make sure you enter the correct contact information in the registration pages as Google will use this information to verify your identity. You will see your map develop as you start to enter your address and make sure to fix an incorrect marker location on the map if needed.
When it comes to identifying your sector take some time to see if you fit within the predefined categories that Google has put together.
Now it's time to specify if all your customers come to your place of business or if you travel to see them. If the latter is the case then you can specify a radius or even towns and counties that you will travel to.
You get the option to specify hours of operation and payment methods. It is important to use the option to upload photos and any videos that could support your listing. Prospective customers love to see images of the business as well as a text description, so why not create a short video introduction. You can use your phone to make the video and don't be embarrassed! It's for a good cause.
Step Three
Finally we need to verify the information. Google will do this by sending a postcard to the address from your listing. It will take about 2 weeks to arrive and will contain a PIN number which is entered into your listing to set it live.
For many small businesses their Google Places listing generates real business. Google says that 97% of people search for local businesses online, so perhaps that is understandable. Perhaps it is because Google Places listings appear at the top of the search results where the impatient searchers do business!
Need any help? Feel free to contact me with any questions you might have on this subject.
https://www.table59.co.uk/wp-content/uploads/2013/05/Google-Places.png
679
1272
table59
https://www.table59.co.uk/wp-content/uploads/2016/03/table59_transparent.275-by78.png
table59
2013-06-20 10:00:00
2013-06-20 17:48:16
Why is Google Places a MUST for local businesses?